Casio CDP – S100 (Entry level)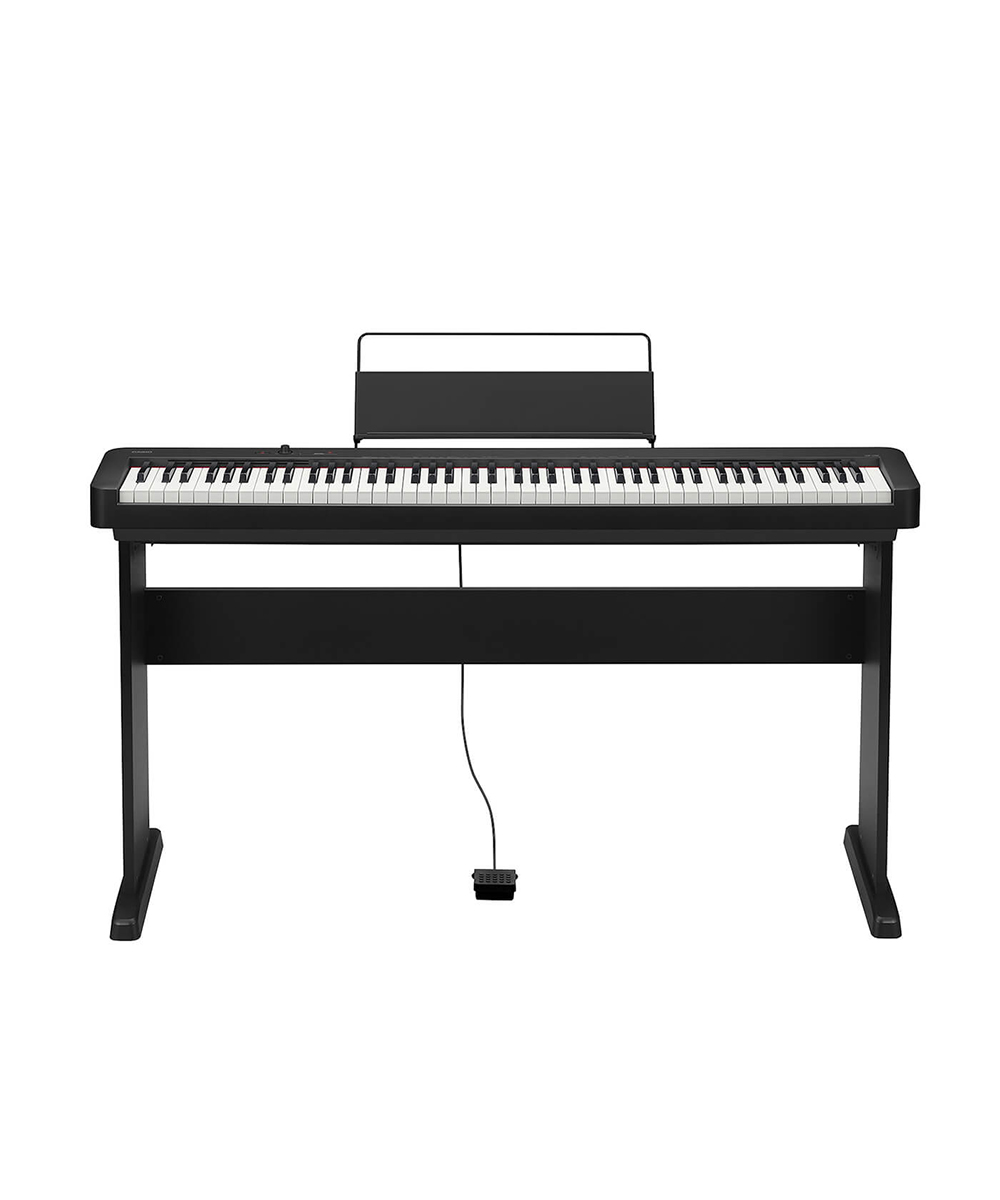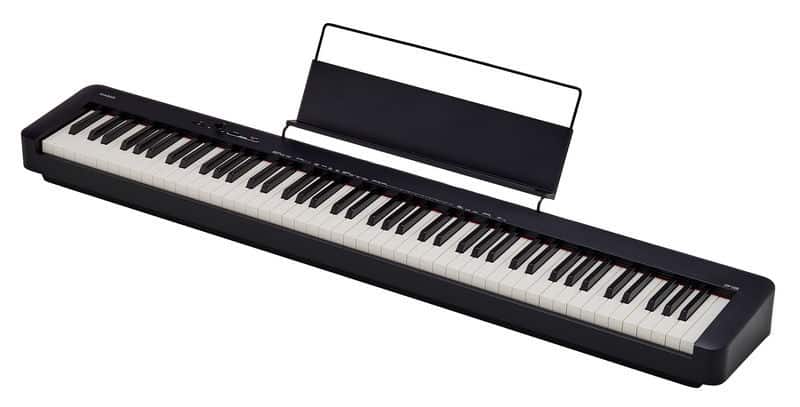 A MORE PERFECT ENTRY INTO THE WORLD OF PORTABLE KEYS THAN EVER BEFORE!
The new entry model of the CDP-S series inspires with outstanding features: new hammer action, new sound generation, new loudspeaker system and option to connect to the Chordana Play for Piano app! Furthermore, the CDP-S100 is lightweight and can be operated with batteries.
88-key digital piano power supply, music rest and sustain pedal
The Casio CDP-S100 is one of the most affordable 88-key home pianos. This offers a lot to the new beginner or hobbyist piano player.
The Sound of the CDP-S100
Besides its grand piano, the CDP-S100 has nine other sounds. There are two other piano voicings, three electric pianos, two organs, strings and harpsichord. Its dual 8-watt power amps are matched perfectly to its 4-1/2" x 2-1/4-inch oval full-range speakers. The CDP-S100's sound system handles the samples in the sound bank easily, and produces satisfying tones for practice or home recitals. It is 64-note polyphonic.
Built to be Loved
Casio has designed this instrument for the enthusiastic beginner. It doesn't have a left hand accompaniment feature. Instead, it provides a quality weighted keyboard for developing dexterity and strength. One feature that turns up the CDP-S100's fun factor is its portability. Its casing is just inches wider than the keys. It weighs only 23 lb., and can operate on AA batteries.
The CDP-S100 as a MIDI Controller
Like most inexpensive weighted-key digital pianos, the Casio CDP-S100 has basic MIDI functions. It sends MIDI information over USB, so you can plug into your computer without any additional interface. When you first plug in your CDP-S100, the driver software your computer needs for your piano will be installed. It can be effectively used as a MIDI controller in a studio or live environment.
The CDP-S100 App
Casio has developed an app that works with the CDP and other Casio keyboards. Chordana Play for Piano controls the functions available from the buttons interface, including transposition, metronome, response and more. It can display 60 songs in the built-in music library, and even turns the optional 3-pedal controller into a page-turner. Speed up and slow down the playback to enhance your own practice. You can play along with preset songs and even cancel the melody part of the playback.
Comes with Essential Accessories
You can use six AA batteries to run the CDP-S100 for up to 13 hours, but for everyday use, it comes with its own AC adaptor. It also ships with a small sustain pedal, a music rest and an owner's manual. It is equipped with everything a beginning keyboard player will need: a weighted action that translates well to an acoustic piano, satisfying sounds to work with, and a good-looking instrument that will instil pride of ownership.
The product includes: Piano bench and headphones.
FEATURES
Scaled hammer action keys

Simulated ivory and ebony key surfaces

Up to 64 note polyphony with 10 built-in tones

Backlit LCD display and easy front-panel controls

Free Chordana Play for Piano app

Connect via USB to your favorite iOS or Android device
A perfect practice piano for any room, order the CDP-S100 today!