The central area of the Emerald Palace Kempinski Dubai hotel is called Blüthner Hall, inspired by the Blüthner Supréme Edition Louis XIV grand piano, and it is located in the most luxurious space in Dubai.
Emerald Palace Kempinski Dubai is proudly situated on Palm Island in Dubai, the world's largest artificial archipelago. It is the location for preserving the most magnificent beauty of 18th-century European palaces, particularly architectural heritages.
Stepping inside the neoclassical palace, you will be attracted by its unique architecture, which includes 24-carat gold-plated ceilings and over 6,400 crystal chandeliers. Massive space with beautiful details like sophisticated chandeliers sculpted from 40,000 Swarovski crystals and polished rose-hued Rosa Portogallo marble. Handcrafted works of art paired with hand-woven damask silk tapestries. All appear to resurrect Europe's glorious time of the 18th century.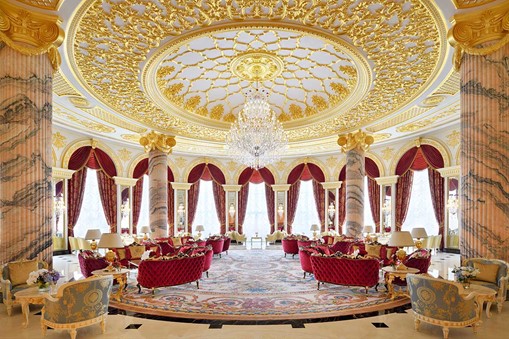 The 18th century royal palace is recreated in the hall of Emerald Palace Kempinski Dubai
Blüthner Hall is a signature place located in the center of Emerald PaHộp Văn bảnlace Kempinski Dubai. The biggest highlight here is the Blüthner Supréme Edition Louis XIV. This breathtaking grand piano was designed in the style of King Louis XIV, one of the famous French figures known as the "Sun King". The delicately polished white finish and the ornamentation are meticulously carved with real gold leaf inspired by the Rococo style, further accentuate the graceful, noble beauty.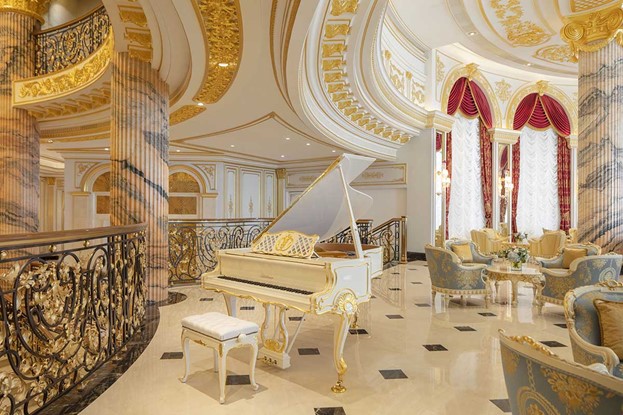 Piano Blüthner Supréme Edition Louis XIV nổi bật trong Blüthner Hall.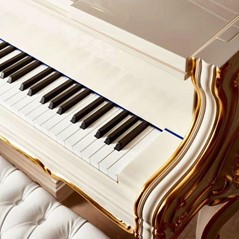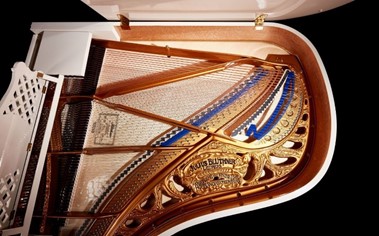 Detail of the piano masterpiece Blüthner Supréme Edition Louis XIV
The masterpiece from Blüthner carries the pride of craftsmanship over 150 years old. Along with its glamor, this grand piano has become a significant symbol, an indispensable piece to portray the splendid and luxurious beauty known as Blüthner Hall. Moreover, the piano has created a special feeling for the atmosphere of tea sessions here. The Blüthner Supréme Edition Louis XI creates a warm and beautiful melody through passionate pianists' hands. Together with the neoclassical aristocratic space, the place brings the most overwhelming emotions for the guests here, like joining a real royal feast at a European palace in the 18th century.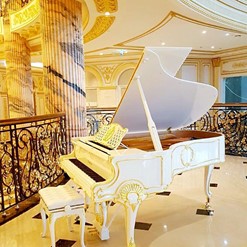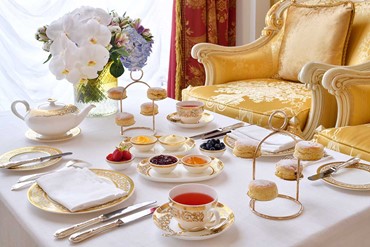 Blüthner Hall is probably the perfect space for luxurious tea parties.